Cryptic: Art & Science 2017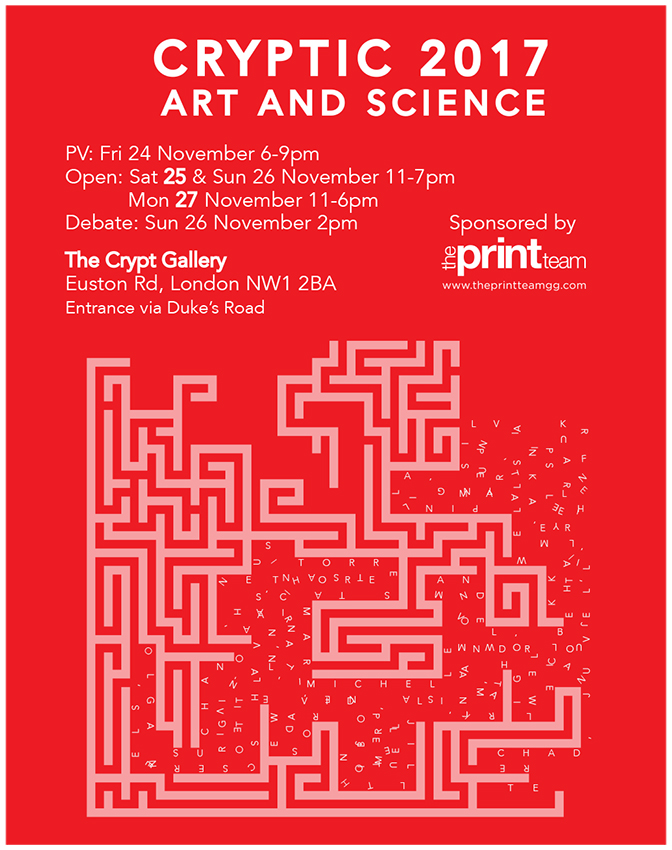 The second running of Cryptic: Art and Science, curated by Neus Torres Tamarit was held in November, 2017. It featured nineteen international artists and a debate on the subject of art, science and technology, organised by Ben Murray and CLOT Magazine. The panel included Professor Arthur I Miller, Professor Emeritus at UCL and author of numerous books on the subject of art and science, Dr Max Reuter, Evolutionary Biology Reader at UCL and leader of the Reuter Laboratory, where Neus is artist in residence, and artist and designer Adam Peacock.
Hosted for the second time by the evocative Crypt Gallery on Euston Road and building on the success of the inaugural exhibition in 2016, Cryptic featured an international selection of nineteen artists, including postgraduate students and alumni from Central Saint Martins, Slade, Westminster University and Middlesex University.
Cryptic examines the relationship between art, science and technology, and features artworks that use technology and science variously as medium or message. In 2017, the rich and diverse subject matters included representations of time, mutation mutated into abstracted expression, exploration of form and material, genetics and evolution, synthesis of emotions into sculptural and crystalline forms, the multiverse, religion through the olfactory sense, technology, control and new materialities, social media, climate change, and plastic waste.
Cryptic took place from Friday 24th to Monday 27th of November.
Artists
Tere Chad
Juan Covelli
Helen Farley
Silvia Krupinska
Meri Lahti
Julie Light
Mark Andrew Lowman
Jill Mueller
Yun Peng
Lisa Pettibone
Marta Pinilla
Dave John Rosewell
Rania Schoretsaniti
Hannah Scott
Virginie Serneels
Olga Suchanova
Neus Torres Tamarit
Michelle Von Mandel
Bekk Wells